Party Specialist: Birthday Clowns Magicians Puppets Orlando Tampa Kissimmee
Birthday Party Clowns Orlando Florida Puppets Magicians & More
TEL: (407) 844-0219
Watch Steve & Puppets on Fox News TV!
See Steve & Puppets!: CLICK ON youtube LINK BELOW
CALL STEVE TODAY!
Steve Knight, professional puppeteer, ventriloquist and magician.
Experienced Professional
MAKE YOUR PARTY SPECIAL!
Steve specializes in birthday parties, holiday parties, and picnics.
YOUR child will be the star of the show!
A Great Kids Party: Steve has PRIZES FOR EVERYONE and a SPECIAL GIFT for your child!
He can perform anywhere in the home or in many spots outdoors.
EXPERIENCED PROFESSIONAL!
Steve has over 40 years of experience, has performed on TV, and guarantees fun and excitement for an extra-wide range of ages & there's no limit on how many children!
Kids Party Orlando, Tampa, St Petersburg, St Cloud, Kissimmee, Melbourne, Lakeland, serving all of Florida.
A kids party specialist featuring clowns, magic and puppets for an unforgetable show of a lifetime!
A FUN SHOW...MEMORIES WILL LAST FOR A LIFETIME!
WATCH STEVE'S NEW TV SHOW!
Broadcast throughout the USA and around the world!
Your child will only be this age once! Let Steve make your child's special day memorable with kids party games, prizes, puppets, clowns, magic, ventriloquisim, fun and surprises.
Serving Kids Party Orlando Florida Tampa St Petersburg Lakeland St Cloud Kissimmee Melbourne and all of Florida!
Watch the magic happen with your kids party specialist. Your child will see the magic puppets of Steve Knight's unique approach. Make your kids party a memorable and fun memory for everyone. Parties, picnics, family reunions, company picnics, party time, theme party. Steve Knight's Nifty Puppets is listed in partypop, decidio, gigsalad, gigmasters.
As a magician, Steve will astound the children at your kids party with "Bakery Bear", a very funny magic routine with lots of child participation. The magic of the "applause Flower" will keep your kids involved and excited.
A professional party specialist Steve is a proud member of the World Clown Association. Steve is also the winner of the the Garden State Puppet Guild Award For Outstanding Contribution To The Art of Puppetry.
Steve and his puppets have appeared at The American Museum of Natural History in New York, Nathan's Famous Children's Theater, Barnes and Noble Bookstores, Emlin Theater, NY, and many tours of clowning, magic and puppets from Orlando Florida to New Jersey! A Kids Party Orlando Specialist. Serving all kids show in Florida.
Party planning specialists serving kissimmee Florida and all of Florida. Clowns Kissimmee and all of Florida. Puppet clowns, lions, and much more! Company picnics and holiday shows are fun and memorable with Steve Knight's Nifty Puppets. Steve's clown puppets will keep the young ones entertained at your company picnic.
Corporate holiday parties and company picnics will e memorable with Steve's Nifty Puppets and ventriloquism show.
Watch the magic happen as magician Steve Knight has fun with polly the bird as she magically blends four different color silks into one beatiful solid one. Steve combines his skills as a puppeteer, ventriloquist and magician into a memorable show that is fun for all. Kids birthday party serving Orlando Florida, Tampa Florida, Winter Haven Florida and the entire state of Florida.The puppetman can make your summer camps fun and exciting. Steve is also available for preschools, schools, malls, summer camps, camps, company picnics, church functions, corporate parties, Holiday Party. Steve makes your kids birthday party magic. Steve is your company picnic orlando expert!
From private parties, dream dances, party like a rock star, clowns, magicicans, puppets, parties are a blast with Steve Knight the puppetman.
Nobody can match all the fun with puppets, magic, balloons, surpises and fun for your holiday show or company picnic.
Kids party orlando specialist. Children's party orlando, tampa, lakeland, melbourne, winter haven, st cloud, kissimmee, florida.
Steve has puppet shows birthdeay party clowns altamonte springs, birthday party clowns longwood, birthday party clowns orlando, birthday party clowns tampa, birthday party clowns melbourne, birthday party clowns Coco Beach, birthday party clowns New Smyrna Beach, birthday party clowns tampa, birthday party clowns Winter Park, birthday party clowns Winter Haven, birthday party clowns St Petersburg.
Purim celebtation and fun.
Library summer reading program.
Summer camps.
Orlando Florida Summer Camp Specialist: Fun Magic, comedy, puppets and more!
Clowns magicians for kids party in Florida specialist!
Clowns puppet shows for Christmas party in Florida specialist!
Clowns and comedy for company picnics in Florida specialist!
Looking for birthday party shows? Steve has the right clowns magicians and ventriloquists for your party. Kids birthday party shows are Steve' speciality.
Steve is the executive producer of his own children's series on MEGAVUE TELEVISION NETWORK.
Visit: www.megavuetv.us to wtach this amazing puppet show and children's entertainment.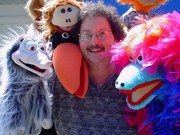 APPEARANCES ON NATIONAL TV & FOX NEWS!
Watch Steve & Puppets on Fox News TV!
CLICK ON youtube LINK BELOW
Birthday Party Clowns Orlando Florida Tampa Lakeland Melbourne, Party Kissimmee, Birthday Party Shows for all ages! Party Serving All Of Florida